Staff Augmentation Services
Approach
As we evaluate a project and the uniqueness of each customer, we understand that our success is also connected to staff selection. Our ability to determine the appropriate talent is for each project is unmatched.
We call this process the "Perfect Fit Factor". While we evaluate the technical aptitude of each staff member, this is only the first step in assigning staff to a project. We also map their work style and personality type to your business culture, and assess if their management and learning styles can blend with how your organization interacts with contractors and staff. Our experience has demonstrated that when we follow this approach to personnel placement, no matter if we are hiring new or incumbent staff, our staff replacement rate is less than ten percent.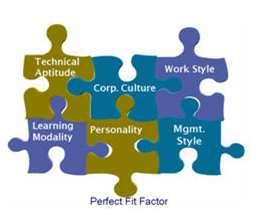 ---
Industries and Labor Categories
When you've been in business for as long as we have, it's hard to list all of the industries or labor categories that we have provided, but here is a start.
Administrative & Management
Clerks
Administrative and Executive Assistants
Special Assistants
Project and Resource Managers
Imaging Clerks
Subject Matter Experts
Accounting, Finance, & Contracting
Accountants
Payroll & Personnel Specialists
AR/AP Clerks
Contracts Clerks, Specialists, Managers
Procurement Clerks, Specialists, Managers
Budget Analysts
Legal, Civil Rights/EEO Training & Investigation
EEO Intake Clerks
Investigators
Mediators
FAD Writers
NOF Writers
Trainers
 Paralegals
Attorneys
Adjudicators
Information Technology/Information Security/Information Design
Software/Web Developers
Project Managers
Content Management Specialists
Requirements Writers
Information Security Managers
Specifications Writers
Help Desk Technicians
Network Administrators
Alternate Site Managers
Security/CISSP Policy Developers
Web-based Training Developers
Technical Writers/Editors
Business Process Developers
Conference & Facilities Management
Inventory Managers
Event Planners
Meeting Managers
AV Specialists
Logistics Coordinators and Laborers
Facilities Managers
Customer Service Clerks
Waste Removal Laborers
Architecture/Interior Design/Construction Staffing
Interior Designers
Space Planners
Architects
Budget and Permits Specialists
Specification and Materials Buyers
CAD/3D-Modelers
Construction Managers
HVAC Technicians
Plumbers
Painters/Finishers
Electricians
MultiFamily Renovations
Drywall
Finish Carpentry
Painting
Lighting
Tile and Floor Installation
Hardware and Appliance Installation
Finish Selection